News
---
#BRAUDICH - dare to enjoy diversity
As part of the new Egger brand campaign, the #BRAUDICH leitmotif is also being presented with a new product at the POS. The #BRAUDICH box from the private brewery Egger is filled with 4 different types of 3 bottles each - to try out, to taste at home or as a souvenir for beer lovers! Well-known as well as new varieties can be found in the full cardboard box:
-3 x 0.33l bottles of Egger Märzen - our excellent beer
-3 x 0.33l bottles of Egger Zisch - the beer for in between
-3 x 0.33l bottles of Egger Hopf'n'Roll - a creation by our master brewer Johannes Meister. Four different types of hops provide an exotic, fruity aroma.
-3 x 0.33l bottles of Egger Rosl - our full-bodied Zwickl, popular in gastronomy, now also in the 0.33l disposable bottle.
The label design of our Egger Rosl was dedicated to Rosa Egger (née Pörnbacher), mother of Fritz Egger, who would have celebrated her 100th birthday in 2021. Rosa Egger was born on March 19, 1921 in Stainach am Brenner into an inn family and is described by her grandchildren as a very lovable, proud, humorous and enterprising woman. With her great social heart and her closeness, she was always welcome and a welcome guest. She also got involved in the company with her love of cooking - for example, she took over catering for the employees in the canteen at the Egger Holzwerkstoffe plant in St. Johann for many years. Rosa Egger not only found pleasure in good food, but also loved smoking cigarettes without a filter all her life.
Available at Billa + from week 45, at Interspar in Lower Austria, Vienna and northern Burgenland in week 46 & week 47.
More information about the new Egger brand campaign: https://braudich.at/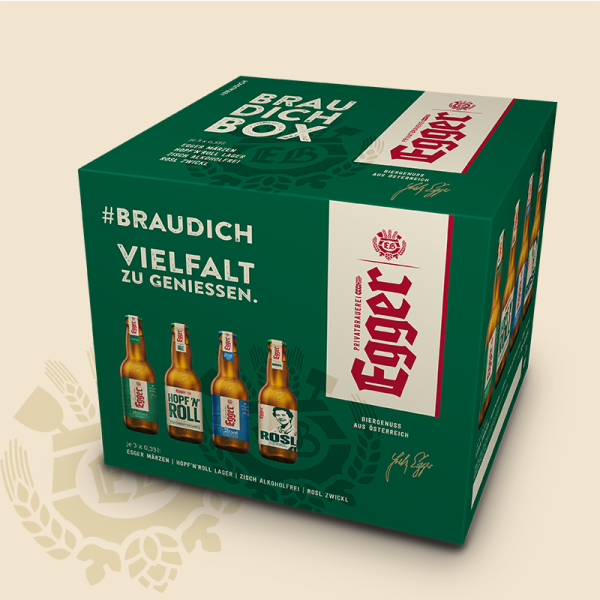 Do you have questions?
Just write to us. We are gladly available
for questions and suggestions.