News
---
Change in the management: Reinhard Grießler appointed managing director
There is a change in management at Egger Getränke GmbH & Co OG: Reinhard Grießler will take over the role of commercial and technical manager from November. In this position, the 39-year-old heads more than 200 employees and is responsible for the operational and strategic management of the company in the areas of production, purchasing, logistics, finance, administration, IT and human resources.

Grießler is moving from sister company Egger Holzwerkstoffe - where he has held leading positions since 2009 - to Egger Getränke. Most recently, the graduate economist was plant manager for technology and production and site manager at the wood-based materials site adjacent to Egger Getränke, where he was responsible for 350 employees and an annual turnover of around 230 million euros. Due to the proximity of the two locations wood and beverages, Grießler was able to gain an insight into the beverage business; With the change, there is now also the chance for him to "work creatively in the food industry", as he himself says.

Company connoisseurs with a view from the outside

Kathrin Golger, owner representative of Egger Getränke, and Frank van der Heijden, managing director for sales and marketing, are looking forward to the support: "With Reinhard Grießler, Egger Getränke is getting a managing director who knows the company very well; but still brings the all-important view from the outside. He will advance our pioneering role in the field of reusable glass and thus in the direction of more ecological packaging for our own brands as well as contract filling and private labels. "

Egger as a competent partner for sustainable packaging

In his new role, Grießler himself wants to dedicate himself above all to the topic of sustainability: "Starting with personnel, through to the product and packaging, to logistics, suppliers and customers, sustainability is a core issue for us. That is not just lived practice, but the basis of our entrepreneurial thinking and acting. "Accordingly, in his new role he would like above all the potential that lies in the company - the good industrial base, the experienced and highly qualified employees and, above all, the new created glass capacities - and to position Egger Getränke even more strongly as a competent partner in matters of sustainable packaging, glass and reusable.

Versatile and open leader

The father of a son and enthusiastic nature lover is very much looking forward to his new role: "I see myself as someone with a great interest in leadership and employee development and I am convinced that, with my patience, perseverance and expertise, I will be able to develop Egger beverages together with my team ", Says Grießler. His diverse professional interests are also reflected in his free time, where he can be equally enthusiastic about sport, hunting, fishing and culture.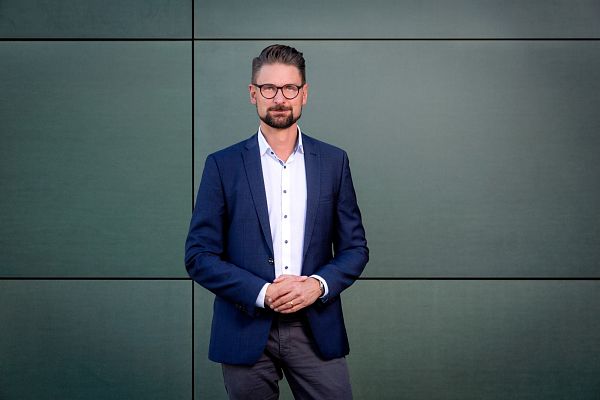 Do you have questions?
Just write to us. We are gladly available
for questions and suggestions.