News
---
Transgourmet and Egger private brewery expand cooperation
Joint distribution: "Cooperation will taste good to the catering trade".
Egger now also available in gastro containers
Transgourmet also offers dispensing equipment and service
One-stop-shop" for gastronomy including delivery
Transgourmet Austria, the domestic number 1 in gastronomy wholesale, and the private brewery Egger, based in Lower Austria, are intensifying their cooperation and entering into a distribution partnership: From February 2018, Egger will also be available in gastronomic containers such as kegs and containers in all eight Transgourmet locations and four mein c+c stores. In addition, Transgourmet as a full-service provider also offers dispensing systems and dispensing services. "Beer is a growth market in the gastronomy sector where a lot is happening. The trend is clearly going in the direction of draught beer, more and more restaurateurs have several different draught beers on their drinks menu. Thanks to our cooperation with the private brewery Egger, we can offer restaurateurs throughout Austria another brand beer that is in high demand by customers," says Transgourmet Austria Managing Director Thomas Panholzer. Up to now Egger was primarily available in food retailing, but now Bernhard Prosser, Managing Director for Marketing and Sales at Egger, wants to position his brand more strongly in the restaurant trade as well: "Egger tastes good to around 500,000 Austrian consumers every year, and we want to take this success to the restaurant trade. With Transgourmet we have found the ideal Austria-wide partner for this".
Beer, glasses, dispensing systems: Everything from the proven hand of Transgourmet
The distribution cooperation includes three different Egger draught beer and Radler products as well as bottled beers in one-way and reusable packaging. Caterers can now fall back on an even wider range of multi-award winning beers from Egger. Sales-supporting additions such as glasses, bar pillars, strewing articles and advertising materials as well as a good price performance ratio will taste the "gastronomers", are the partners Transgourmet and Egger convinced. Beyond that Transgourmet over its beverage specialized wholesale TRINKWERK has also the complete bar technology in its assortment: Planning, financing as well as assembly and service of classical beer tapping plants up to extensive computer bar systems are offered, whereby internal professionals provide for smooth operational sequence.
Hops, water and malt: The gastronomy pushes beer
The partnership between the two companies is expected to significantly increase Transgourmet's beer sales. "Through permanent growth and commitment as well as investment Transgourmet will become the largest beverage wholesaler for the gastronomy with TRINKWERK. We see further potential in the beer segment and would like to establish ourselves even more strongly in this product group in the future - similar to what we have already achieved with wine", says Panholzer. The Egger private brewery, which is family-owned in Austria, is the ideal partner for Transgourmet. Because the company is "well on the way to becoming Austria's largest private brewery" and has invested more than 50 million euros in the brewery in recent years, making it one of the most modern in Europe and thus perfectly equipped for further growth. It is essential that the two companies agree in their approach to business: Both consider sustainability to be a matter close to their hearts, and the fact that Egger has been producing climate-neutrally since last year was an important aspect of the cooperation.
photo credits:
Photographer: Marius Höfinger
©Privatbrauerei Egger, printable free of charge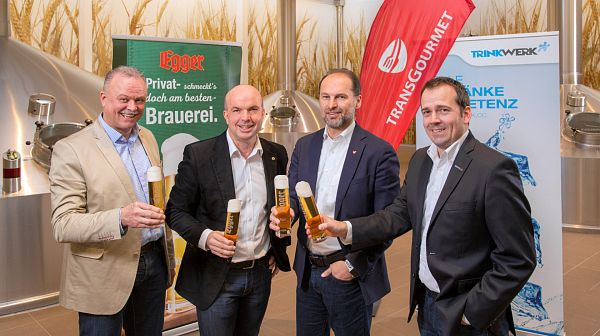 Do you have questions?
Just write to us. We are gladly available
for questions and suggestions.