News
---
Granny's budget goes to DIVISION 4
Austria's no. 1 among the sparkling apple juices, Granny's, relies on the expertise of the DIVISION 4 team. The budget includes full service support from 2018 on with focus on experience marketing.

Vienna, 7.3.2018. Full-service support, with a focus on customer-oriented experience marketing, is one of the core competencies of the Viennese communications agency DIVISION 4. It was precisely with this approach that agency head Alexander Zoubek won a pitch for Granny's, the local number one* among sparkling apple juices. "The strategic-conceptional entrance convinced us just as the Creative Idea, justifies Margareta Seiser, line marketing & PR of Egger Getränke, the decision. "The agency proved not only professional mark understanding, but also inspired by a funny and stimmige campaign."
DIVISION 4 owner, Alexander Zoubek, is equally delighted with the exciting new client. ""Personally, I am already very much looking forward to the implementation of the planned activities. We are proud to be able to support this traditional Austrian brand, full service. The Granny`s budget includes TV, print, OOH and online activities as well as B-t-L and sales-oriented measures. Zoubek: "In the future, special attention will be paid to experience marketing and the dialogue with the target groups. We would also like to focus on the Granny`s product philosophy: Sustainability, Austrian quality and 100% climate-neutral production, coupled with the unique partnership with ARCHE NOAH, an association that is committed to the preservation of cultivated plant varieties threatened by extinction."
*Source: ACNielsen
Inquiry note:
Egger Getränke GmbH & Co OG
Mag. Margareta Seiser
Head of Marketing & PR Tel: 050/300-16882
e-mail: Enable JavaScript to view protected content.
www.grannys.at
https://www.facebook.com/grannysapfelsaftgspritzt/
Press contact DIVISION 4: Enable JavaScript to view protected content.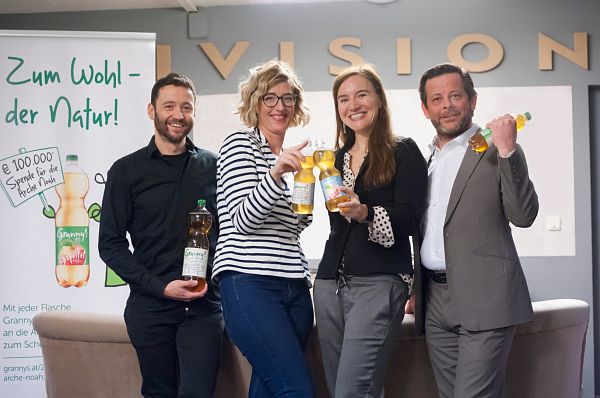 Do you have questions?
Just write to us. We are gladly available
for questions and suggestions.