News
---
Granny's donates 50,000 euros to ARCHE NOAH
"For the good of nature!" - Granny's and ARCHE NOAH successful:
Granny's donates 50,000 euros to ARCHE NOAH
Strategic future partnership to preserve diversity
Granny's is growing massively: New listings through cooperation
Increase in the proportion of litter in Granny's
22 million gross contacts through a broad advertising campaign
Granny's, the domestic number one in sparkling apple juices, and the ARCHE NOAH association are reaping the first fruits of the future partnership: Almost four months after the start of the cooperation, a donation of 50,000 euros was handed over to the committed protectors of diversity. "For every bottle of Granny's, 5 cents go to ARCHE NOAH. Each and every one of us can actively contribute in a very enjoyable way to preserving the natural diversity," said the initiator of the partnership, Margareta Seiser, Head of Marketing & PR Egger Getränke, happy about the great success. The plan: to collect 100,000 euros and hand it over to ARCHE NOAH. ARCHE NOAH fruit expert and deputy managing director DI Bernd Kajtna knows about the purpose: "Thanks to Granny's, we are able to expand the cultivation areas for orchards. Conservation through use is our principle. "

The three-year collaboration between Granny's and ARCHE NOAH comprises five pillars: donation cooperation, increasing the share of litter and the introduction of organic products, joint product development and cooperation in matters of communication and representation of interests.

Promised - kept: "Blooming cooperation"

The outstanding initiative not only literally bears fruit: sales of Granny's sparkling apple juices have so far increased by 14 percent [1]. New listings at Bellaflora and Bipa also strengthen the brand. Both retailers and end consumers are taking the ideas very positively. Bernhard Prosser, Managing Director for Sales and Marketing Egger Getränke, is pleased: "We are generating unique added value here for the Granny's brand and also for us as a company."

Comprehensive communication measures

The idea and the goals of the cooperation will be carried out into the world as part of a broad communication campaign: in April and May, 20-second TV spots will be broadcast on ORF and the SevenOneMedia Group. The campaign is also supported in online media such as kurier.at, gmx.at and derstandard.at. The campaign reaches 22 million gross contacts and guarantees the recognition of the successful start of communication at the end of 2017.

Directly in the trade, POS displays point out the unique added value of Granny's, a sensational guerrilla campaign rounds off the communication.

Credits:
Advertising agency: Division 4 communication GmbH and Projekt21: mediendesigngmbh (basic concept)
Media agency: UM Panmedia

Photo credits:
Photographer: Marius Höfinger Photography
(C) = Egger Getränke, can be printed free of charge

About Granny's
Granny's is Austria's number one for sparkling apple juices (source: AC Nielsen, YTD 2017) and therefore the market leader in this segment. 100% domestic apples and water from Austria are used for the product range - currently it includes the four types of Granny's Apple Juice, Granny's Still, Granny's Sport and Granny's Apple-Elderberry. The beverages have been produced in a "climate-neutral" manner since 2017: With the help of the in-house biomass power plant and an external electricity provider who works exclusively with renewable energy sources, a climate neutrality of 99 percent is achieved; the remaining CO2 emissions are compensated for by climate certificates, with which a water treatment project in Kenya and a well repair project in Malawi are supported.

Inquiry note:
Egger Getränke GmbH & Co OG
Mag. Margareta Seiser
Head of Marketing & PR
Initiator and project manager "For the benefit of nature!"
Tel: 050 / 300-16882
e-mail: Enable JavaScript to view protected content.

[1] Internal sales statistics, compared to the previous year
---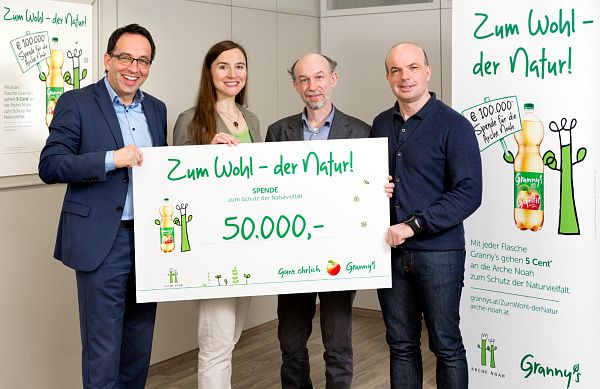 Do you have questions?
Just write to us. We are gladly available
for questions and suggestions.