News
---
Egger launches image campaign "with Egger and edges"
Repositioning of the Egger brand
High impact campaign with focus on TV, online and social media
#braudich: platform for rebels, heroes, adventures and stories
10 million gross contacts on TV and 15 million ad impressions as goal
The Austrian, regionally rooted private brewery Egger brews top award-winning beers*, is  innovative and produces ecologically. But above all, it operates outside of the mainstream. "We brew beers for many people - but not for everyone." says Egger Getränke Manager Frank van der Heijden. "We were and will remain rebellious in the best sense of the word." This "buck the trend" as a basic attitude is now also the starting point for one of the most emotional and high-impact campaigns in the country: "Our new Egger beer brand campaign is more than advertising - it is a statement ", says Frank van der Heijden happily. The TV spot - which is one of the most elaborate advertising film productions of the year - can be seen from July 19 in three different lengths between 15 and 45 seconds across the board on ORF and on private television. Online and social media activities complete the new appearance, which will also be expanded to include an OOH and print campaign in the future.
Longing for authenticity, rough edges and impulses to dare something
The elaborate, eye-catching brand campaign specifically promotes the longing of many people to be allowed to be who they are: real and not a copy. "Advertising often suggests to us that it is essential to be exceptional and to be the best in order to be recognized. We say: Be yourself - with all your strengths and weaknesses. With our campaign we want to encourage existing and new customers to dare to do something and to live their own rough edges. For us that means "with Egger and edges" and #braudich", continues van der Heijden. "For us, with Egger and edges internally means brewing a beer for nonconformists and people with points of view. That suits us very well, because we brew beer for many people - but not for everyone."
#braudich as keynote
"#Braudich is the basis for self-confident subjects, eye-catching, challenging and touching films and one or two bold actions. But also a platform, a pool of ideas and a reference work", says Roland Ortner from the Viennese agency Ortner & Weihs, who is responsible for the campaign. The advertising film - which represents "the heart of the campaign" - offers a large, creative way of playing for an emotional, challenging, touching, poetic and edgy statement. The initial idea was the solid market position of Egger - and the "desire for more". The request to dare to do something became the lkeynote. "In keeping with the customer, this became the slogan "braudich'. For us that was the basis for the corresponding implementation in TV, online, print, on social media and at the point of sale. "
Black and white meets color
"In the optical implementation of the film, we have atmospherically interwoven the strong character image world - which deliberately renounced color and thus emphasizes the corners and edges - with the beer world", says Christoph Weihs, Creative Director Art. The result is an extremely appealing, touching film that "works" perfectly and emotionalises you in three lengths. "The film should encourage you to be the way you are, to let it rip every now and then, to foam with joy, to fall out of the ordinary, to see things differently and to be open to new things," says Weihs further.
#braudich as platform
#braudich is more than a statement, it's an appeal. On the #braudich web platform, the Egger private brewery invites "everyday heroes" to take a seat and find a place. Here people with "Egger and Edges" are to be covered, who report about their life, their experiences, attitudes and visions. It goes without saying that there are no restrictions - it's all about inspiration, exchange, suggestions and the courage to change. "We look forward to applications, heroic stories and ideas for protagonists on Facebook and Instagram", explain Sebastian Stieger, Sales and Marketing Manager and Katrin Afflenzer, Brand Manager at Egger Getränke.
*As part of the renowned Falstaff Beer Trophy, a three-person jury of experts again voted Egger Märzen in second place with 92 points in June 2021. A total of 170 beers were tasted. Results in detail: https://www.falstaff.at/nd/falstaff-bier-trophy-2021-die-besten-lagerbiere/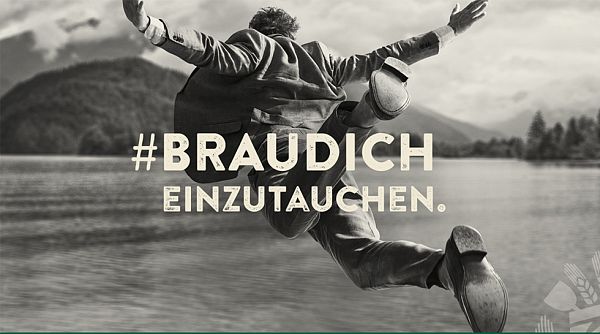 Do you have questions?
Just write to us. We are gladly available
for questions and suggestions.