News
---
A summer like back then: Radlberger turns 30
Austria's traditional lemonade is celebrating its birthday

Radlberger, the traditional Austrian lemonade brand, is turning 30 this year - and is celebrating this with numerous activities throughout the season. With a competition, special packaging and various sampling campaigns, domestic consumers are to celebrate a "summer like it was back then".

Traditional brand Radlberger moves with the times
Radlberger has established itself over the last few decades as "the" traditional Austrian brand for lemonade and in 1988 was the first Austrian company to fill lemonade (and mineral water) in PET bottles. "Especially in fast-moving times, there is a longing for nostalgically familiar Austrian brands," says Bernhard Prosser, Managing Director for Sales and Marketing at Egger Getränke. Buyers of several generations experience "a summer like back then" with Radlberger lemonade. But traditional brands also have to develop further in order to meet consumer requirements and to keep up with the times: Last year, Radlberger subjected its brand to a recipe optimization: In accordance with customer requirements, the sugar content of one variety was reduced and Radlberger Orange sugar-free, a sugar-free fruit lemonade put on the lemonade shelf. At the same time, the packaging was also revised.
This year's anniversary conveys the core message of the brand on all levels, namely "A summer like back then", which consumers should experience.
Competition until September
The heart of the birthday activities is a competition that accompanies the entire season. 30 weekend vacations in Austria and 3,000 other prizes will be raffled. The lucky (main) winners, who will be drawn in October, can look forward to a voucher for two people for two nights in the 4-star Hotel Sportresort Hohe Salve in the Kitzbühel Alps.

Communication on all levels
Communication takes place at all levels: since mid-May, all bottles from Radlberger have been encased with labels specially designed in a summery design, which draw attention to the anniversary and also to the competition that runs until the end of September. The same design will be seen in the supermarkets and at the POS on displays and the wrapping of the pallets. The anniversary will be widely communicated in radio spots and on its own microsite on the Internet as well as on social media channels. Last but not least, the high season runs from June to
September the Radlberger APE will be on the road to quench your thirst with wonderful lemonades from Lower Austria.

New: Radlberger Gartenfrüchte in two varieties
The need for seasonality on the lemonade shelf is met with new products: The Radlberg garden fruits in the varieties Kriecherl and Weichsel score with a 10% fruit juice content. The fact that the products contain 40% less sugar is in keeping with the spirit of the times. The two lemonades will be available in the practical 1l PET bottle in grocery stores in summer.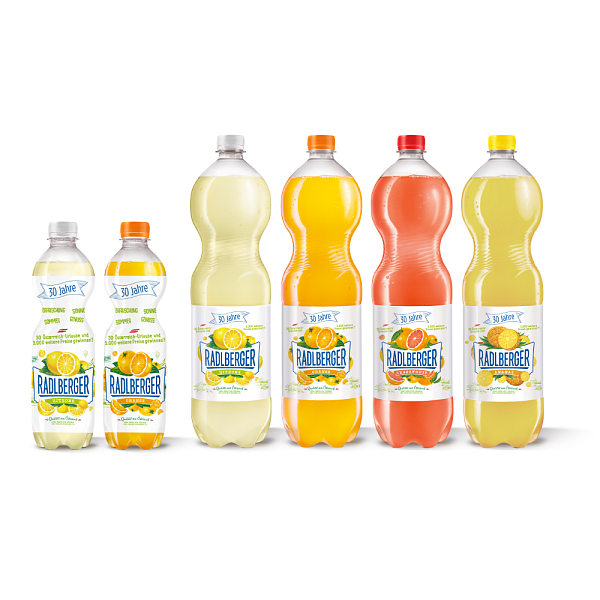 Do you have questions?
Just write to us. We are gladly available
for questions and suggestions.