News
---
Egger and Lisa Hauser extend successful sports sponsorship
Biathlon star Lisa Hauser will be supported by the private brewery Egger as head sponsor for another three years
Lisa Hauser starts the next season as world champion
Excellent performance and excellent beer "are perfect partners"
The private brewery Egger and the biathlon world champion Lisa Hauser announce the extension of the cooperation that has existed since 2016: The family-owned Egger private brewery with roots in Tyrol and the Kitzbühel woman will continue their successful cooperation for the next three years. Egger will continue to act as head sponsor and thus place the brand in winter sports that is widely visible.
The model biathlete is already training for the next season in order to be able to seamlessly build on the successes of last winter: With World Cup gold in the mass start in Pokljuka / Slovenia and the World Cup silver medals in the mixed relay and in the pursuit the biathlete wrote sports history and looks back on the greatest successes of her career to date. In addition, she was able to record another victory and four "bronzes" in the World Cup last winter and with these outstanding performances she secured the "small crystal ball" (1) in the individual World Cup ranking. "Being able to start the new season as world champion naturally makes me proud. These successes are not least possible thanks to long-term sponsors - I am therefore very pleased that the private brewery Egger and I will continue to work together as partners in the future, "said Lisa Hauser. "Thanks to my sponsoring partners, I can concentrate perfectly on the sport," says Hauser. Frank van der Heijden, Managing Director of Egger Getränke, came to Kitzbühel for the celebratory contract extension and is looking forward to more: "We are very proud of the successes of" our "Lisa - and we want more mutual successes."  
Lisa Hauser as perfect testimonial
"Lisa is a perfect brand ambassador: honesty, down-to-earthness and fairness are core values at Egger and are lived by Lisa Hauser every day," says Frank van der Heijden. Thanks to her successes, Nordic winter sports are also attracting much more public attention - and benefiting from them also the private brewery Egger. In addition to head sponsorship, the cooperation also includes joint advertising appearances and social media activities. Lisa Hauser is actively involved in the new Egger brand campaign.
Athletes are actively addressed
Testimonials ensure brand awareness. Addressing new target groups was and is the focus of Egger's sports sponsorship strategy: biathletes Lisa Hauser and Dominik Landertinger - whose cooperation contract has also been extended - contribute to promoting the Egger brand in sports circles and beyond make it even better known.
"Golden pleasure" meets world champion
The alcohol-free, isotonic product Egger Zisch is the ideal thirst quencher "with added value" for athletes - and like the Egger Märzen and Egger Bock beer, it was awarded gold again this year (2). In addition to the taste, Egger scores with its climate-neutral production, which is a decisive criterion for more and more consumers and trading partners. "Naturally, that fits perfectly with a world champion," said van der Heijden.
ad1) Ex aequo with the Italian Dorothea Wierer
ad2) DLG Gold for Egger Zisch, Egger Märzen and Egger Bock beer by DLG in February 2021
---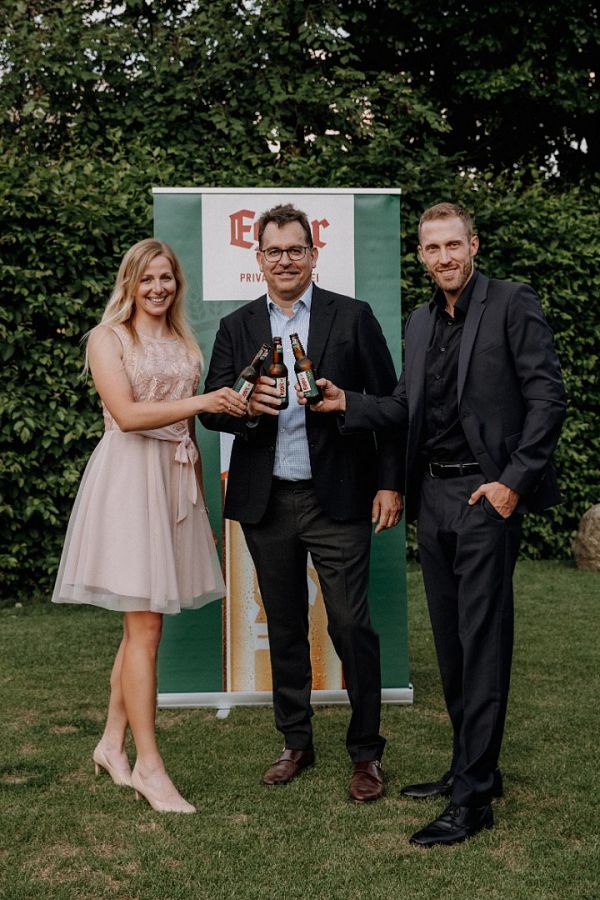 Do you have questions?
Just write to us. We are gladly available
for questions and suggestions.