News
---
Marketing cooperation: Egger private brewery is raffling off NAPOLEON gas grills in a limited "Egger Edition"
In line with the summer barbecue season, the Egger private brewery is raffling off 10 exclusive Napoleon gas barbecues in the limited "Egger Edition" worth 1,100 euros each as part of its cooperation with the premium gas grill producer Napoleon. Egger once again underlines the interplay between grilling and Egger beer: "Every barbecue - regardless of whether meat, fish or vegetables end up on the grill - is perfect when a good beer is served with it. That is why barbecuing and Egger beer are inseparable, "emphasizes Martin N. Eicher, Marketing Manager at the Egger private brewery. For this reason, Egger has been running a strong advertising campaign on the subject of barbecues since last year and was the main sponsor and name partner of the Egger Grill Spirit Festival in Horn in Lower Austria for the third time this year.

The current competition runs from mid-July to mid-September and is advertised via radio, Feibra-Notes, social media and at the POS. Customers can buy an Egger beer of their choice, upload the receipt to www.egger-bier.at and hope for their luck in the raffle.

Barbecue + beer = the ideal scenario for most Austrians
The current cooperation between Egger Bier and Napoleon creates a natural connection between two companies, whose contents naturally fit together. If you ask Austrians about occasions when they like to enjoy beer, "when grilling" clearly leads the ranking: for 60 percent, grilling is the perfect occasion for a refreshing beer enjoyment. *

Grilling like the pros
The Napoleon Rogue 425 propane gas grill made of stainless steel stands for a "grilling experience of the next level": With the large grill area, whole groups can be supplied with delicious grilled food at once. Both direct and indirect grilling is possible, an 800 ° infrared side burner - the so-called sizzle zone - brings even more preparation methods. It is especially perfect for quick meals, sauces and side dishes as well as steaks that can be prepared in restaurant quality.

* Source: Marketagent.com; N = 728 Austrians, who drink beer between the ages of 18 and 69, survey time January 2019
---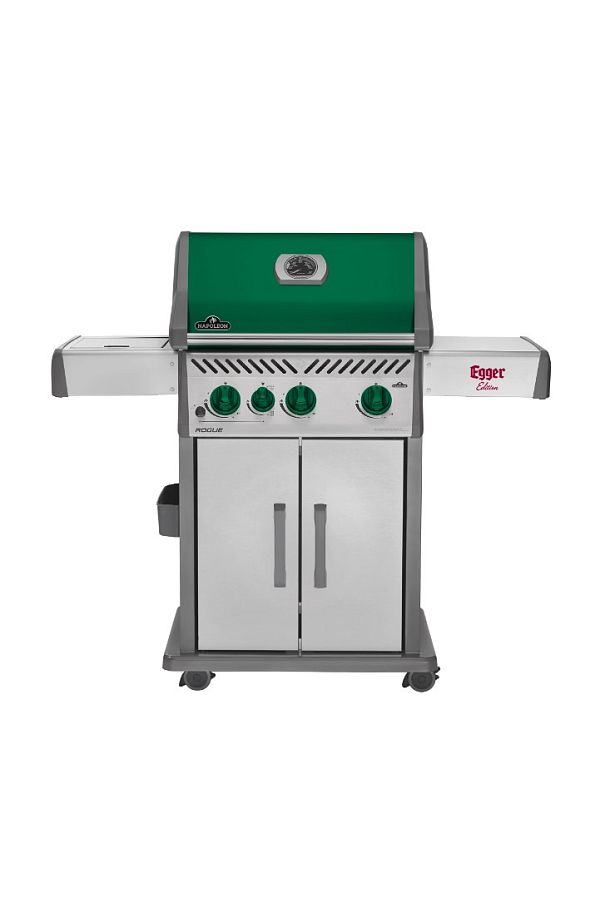 Do you have questions?
Just write to us. We are gladly available
for questions and suggestions.