News
---
Radlberger LIMÖ receives state award "Smart Packaging" in the category "Branding" for the newly developed reusable glass bottle
Federal Ministries for Digitization and Business Location as well as Climate Protection, Environment, Energy, Mobility, Innovation and Technology award the prize
Reusable glass bottle from Radlberger LIMÖ "is a sustainable reusable solution in an eye-catching design", according to the jury's statement
Packaging was developed together with Vetropack Austria
Egger Getränke received the "State Prize Smart Packaging" in the "Branding" category from the Federal Ministry for Digitization and Business Location and the Federal Ministry for Climate Protection, Environment, Energy, Mobility, Innovation and Technology for the newly developed 1-liter returnable glass bottle from Radlberger LIMÖ . This state prize, which is awarded every two years, honors holistic, comprehensive solutions in the packaging sector that not only meet functional requirements but also sustainability aspects. Frank van der Heijden, Managing Director for Sales and Marketing at Egger Getränke, accepted the state award as part of a TV recording. "This award once again confirms our decision to offer reusable glass as a contemporary form of packaging to consumers as well as to our contract filling customers from trade and industry," said the beverage manager. In February, Egger Getränke put a state-of-the-art glass filling plant into operation for EUR 25 million and has since been selling lemonades, fruit juices and mixed teas in environmentally friendly reusable glass bottles, which are very well received by both retailers and consumers.

DI Johann Eggerth, Managing Director of Vetropack Austria GmbH, which developed the new bottle together with Egger Getränke, commented on the award: "We are very proud of this award. Together with our customer Egger Getränke, we were able to implement a holistic and sustainable packaging solution. The excellent cooperation between our two companies is once again confirmed by this award.
Climate protection concepts more important than ever
Reusable glass is not only an increasingly popular form of packaging with Austrians, but also an essential contribution to climate and environmental protection. The initiators of the award know that "innovative climate protection concepts are particularly in demand. The packaging industry, like hardly any other industry, is confronted with the challenges and opportunities that result from it - keyword circular economy. " Because good and smart packaging shape brands, influence purchasing decisions and drive innovations - at the same time, they should meet high environmental standards. Radlberger LIMÖ was awarded the state prize because the newly developed reusable glass bottle is characterized on the one hand by its eye-catching design, which is as aesthetic as it is modern, and on the other hand it makes a significant contribution to resource conservation and waste avoidance. The packaging "looks chic and fruity
and makes you want to drink ", so the 11-member jury, made up of one representative each from the organizing ministries and experts from the Institute for Packaging (ÖIV), Chamber of Commerce organization, graphics / design, waste advice, market research, packaging consulting, media and the last State prize winners composed.

The new reusable glass bottle meets the criteria of ecological sustainability "across the board", as Frank van der Heijden emphasizes. The bottles are made with an above-average proportion of waste glass - this saves energy and CO2 emissions - in addition, glass is "100 percent in a closed material cycle". Glass can be made from glass - and this is unique - as often as desired. In addition, glass is ideally suited for food, it "protects the contents like a safe", says DI Johann Eggerth. Particular attention was paid to aesthetics when developing the bottle. "We deliberately wanted to develop a bottle that stands out visually from existing glass containers, appeals to consumers and also feels good in the hand. The modern shape with the decorative grooves - deliberately reminiscent of lemon squeezers - fulfills this requirement. "

In addition to Radlberger LIMÖ, the drinks Granny's apple juice and Unkraut are offered in 1-liter returnable glass bottles throughout Austria in selected branches at SPAR, EUROSPAR, INTERSPAR, MPREIS, T&G, UNIMARKT and Nah & Frisch, both individually and in a sustainable box of 6
Here is the link to the show: https://fb.watch/1QHSI_k7Zq/ 
---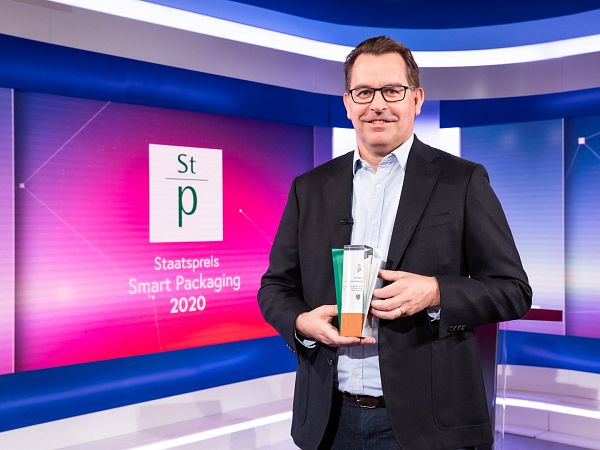 Do you have questions?
Just write to us. We are gladly available
for questions and suggestions.