News
---
Reusable glass packaging is the trend: Egger Getränke very satisfied with development
Parliamentary environmental committee visits Egger Getränke
The comeback of the glass bottle
Egger Getränke has been filling lemonades in reusable glass bottles again for a year and, on the occasion of a visit by a delegation from the parliamentary environmental committee and the deputy mayor and city councilor of the city of St. Pölten in Unterradlberg, draws a satisfied interim balance: "We are actively shaping the comeback of the reusable glass bottle. Consumers want and buy the appropriate products, "said Frank van der Heijden and Martin Forster, the two managing directors of Egger Getränke, with satisfaction. It is undisputed that reusable glass is clearly relevant packaging that corresponds to the spirit of the time. Even in the "exceptional year 2020", this type of container recorded a significant increase in sales. At Egger Getränke, a total of five million returnable glass bottles left the production line.
Reusable as an important part of climate and environmental protection ​​​​​​
Robert Laimer - Member of the National Council and member of the parliamentary environmental committee - initiated the visit to Egger Getränke: "The environmental committee deals with all bills and proposals that deal with nature conservation, climate protection and ecology. This ranges from waste collection and recycling to the use of renewable energies. Of course, we are also interested in the implementations in this area that are already in operation. That is why we wanted to take a look at the showcase system ourselves and were able to gain valuable insights. "And further:" In order to make reusable containers strong again in Austria, companies like Egger Getränke need to take courageous steps forward. "Climate and environmental protection are topics that need the strength and effort of everyone involved in order to be able to carry out the urgently needed change. Laimer sees it as his task "as a political representative to create the framework conditions for local companies that enable them to move into a more ecological future."
One year reusable glass "made in Lower Austria"
The success of the 25 million euro investment in the Egger glass plant is quite impressive: "We were able to significantly increase the proportion of returnable glass in all three business areas in which we are active, namely our own premium brands, contract bottling and private labels and notice that this development is continuing and that the demand for reusable glass continues to rise, "explains Frank van der Heijden. He mentions the Spar retail chain as a prominent customer, which has been filling five different "SPAR" branded drinks from Egger Getränke in 1-liter returnable glass bottles since last April. Van der Heijden is currently pleased with a well-known customer in the field of contract bottling: from now on Almdudler is also relying on the contemporary 1-liter returnable bottle for its products "Almdudler Original", "Almdudler zuckerfrei" and "Spezi Orange".
Supply and demand influence each other
"Reusable glass is actively sought after by consumers. Supply and demand influence each other positively: If the supply is expanded and reusable glass bottles are widely available, the awareness and interest of consumers, who then increasingly demand glass, "is van der Heijden due to his many years of experience in the market convinces and makes the beverage industry and all those who sell private labels an attractive offer: "Reusable glass is clearly the trend - and we have the necessary capacities to be able to support this change in shopping behavior." In addition, Egger Getränke scores climate-neutral production, which is a decisive criterion for more and more producers and consumers.
Neutral reusable glass bottles and crates can be used by everyone
Both retailers and contract bottling customers can use the award-winning 1-liter returnable glass bottle developed by Egger Getränke just like the sustainable 6-bottle crate: By deliberately avoiding branding, bottles and crates - with the self-confident label "I like to carry - the For the sake of the environment "- can be used in all three areas. "In this way, we make it as easy as possible for consumers, producers and retailers and at the same time increase sustainability because we only use a single container across all brands."
Strong company on three pillars
436 / 5000
Übersetzungsergebnisse
As a family company, Egger Getränke combines flexibility with experience and constantly attracts attention with innovations. The success of the company, which fills around 400 million beverages annually, can be traced back to a long-term strategy and the focus on three pillars, namely the development of premium brands, contract bottling and private labels both in Austria and in export.
Photos and credits by: Josef Vorlaufer
---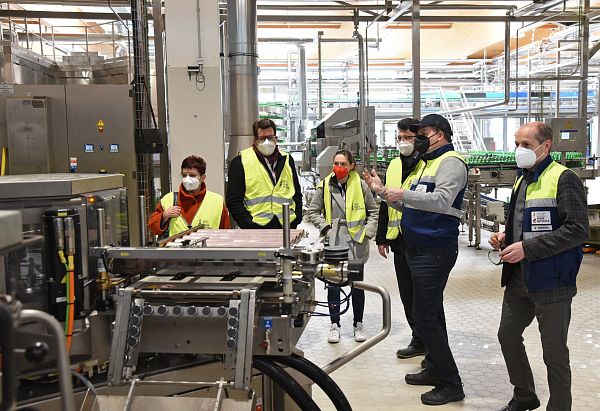 Do you have questions?
Just write to us. We are gladly available
for questions and suggestions.