News
---
Granny's are now also available for the little ones
In all honesty: no added sugar, no coloring or other additives
In all honesty: who doesn't care what their children drink? Granny's, Austria's most popular apple juice, is bringing a new, high-quality children's drink onto the market that is one thing above all: natural. It contains pure apple juice from local apples and still water - nothing else. No added sugar, no coloring or other additives. With 45 percent apple juice and 55 percent still water, Granny's Mini is also less sweet than most children's drinks. "We can say with a clear conscience that Granny's Mini is a new, high-quality and, above all, natural impulse for the children's drinks shelf," says Bernhard Prosser, Managing Director for Sales and Marketing at Egger Getränke, proudly presenting the latest innovation from his company.
Shape, size and packaging designed for children
The product development of Granny's Mini focused on the target group of children - but without forgetting the parents. In the handy 0.35 liter PET bottle with a resealable sports cap, the drink is ideal for small children's hands and for on the go. The child-friendly, likeable apple tree design appeals to both the little ones and their parents.
Focus on naturalness as a benefit for parents
Martin N. Eicher, Marketing Manager at Egger Getränke, also refers to the parents as a target group: "To be honest: It doesn't matter what our children drink. Despite the increasing health trend, the range of children's beverages on the market has so far been dominated by products with added sugar, preservatives, colorings or flavor additives. " Eicher is convinced "that good content is more important than the latest comic book heroes on the label."

Austria's most popular sparkling apple juice
The idea for the children's drink from Granny's is a logical continuation of the product range. Most children grow up with sparkling apple juice - so far this relevant category has hardly been represented on children's drinks shelves. This gap is now being filled by Austria's most popular apple juice - a 40 percent market share in the food retail sector speaks for itself. Granny's Mini is available from April in the 0.35 liter bottle and in the 8 x 0.35 liter storage pack throughout Austria at local grocery stores.
---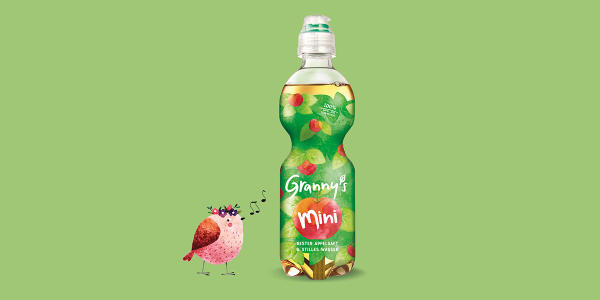 Do you have questions?
Just write to us. We are gladly available
for questions and suggestions.