News
---
New addition to the management: Martin Forster becomes managing director of Egger Getränke
At Egger Getränke GmbH & Co OG there is a new addition to the management: from the beginning of May, the experienced manager Martin Forster will take over the operational and strategic management of the company in the areas of production, purchasing, logistics, finance, administration, IT and human resources thus managing director at Egger Getränke alongside Bernhard Prosser. He is in charge of more than 200 employees. In this role, the 49-year-old succeeds Egger's long-time managing director Kurt Ziegleder, who after more than 40 years with the company will take on other tasks outside of the beverage sector. 
 
Food professional at the top
With Martin Forster, after Kurt Ziegleder, there is once again an absolute professional at the top of the family company. Born in Lower Austria, he has been working in the food industry since he started his career and has held several management positions in the industry since 2005. Until 2016, Martin Forster was the technical director of efko GmbH in Eferding, where he worked for a total of 19 years. Most recently he was in the plant management of the company Süddeutsche Truthahn AG, a company of the Bell Food Group, and before that in the plant management of the Condeli company, a subsidiary of Hochreiter Fleischwaren GmbH. In these functions he was i.a. responsible for building a sustainable personnel and organizational structure, optimizing results in the technical areas and planning and implementing investment projects. He was also responsible for costs in the areas of personnel, production, energy and purchasing. 
Family-owned business with great potential
The move to Egger Getränke is exciting for Martin Forster: "The development of the Egger Getränke company and the existing potential are impressive. Above all, however, it was the opportunity to be able to actively participate with my knowledge in the further success story that attracted me." The enthusiastic skier and racing cyclist is very experienced in the implementation and handling of complex projects and can do this to show some international successes. Kathrin Golger, owner representative of Egger Getränke, is correspondingly confident with the choice: "In Martin Forster we have found a very experienced manager for this very important area. His impulses will help us to strengthen and expand the leading role of Egger Getränke at home and abroad. At the same time, I would like to thank Kurt Ziegleder from the bottom of my heart, who has played a key role in the company's success over the past 40 years." Bernhard Prosser, Managing Director at Egger, is also looking forward to his new partner in the management: "Together with Kurt Ziegleder we have made Egger and its individual brands a strong Austrian player. I look forward to continuing this path with a professional like Martin Forster and implementing new ideas," said Bernhard Prosser.
"Strengthening know-how in the company"
At Egger Getränke, Martin Forster would like to work on the ongoing development of technologies in order to advance topics such as resource conservation and environmental protection. Another focus will be on investing in employees: "With targeted training and further education, we can ensure that we will have sufficient skilled workers with the necessary know-how in the future. That will strengthen our position on the market even more." 

Strong company on four pillars
As a family company, Egger Getränke combines flexibility with experience and constantly attracts attention with innovations. The success of the company with an annual turnover of over 100 million euros can be traced back to a long-term strategy and the concentration on four pillars, namely the development of strong premium brands, contract filling, the production of private labels and export.
---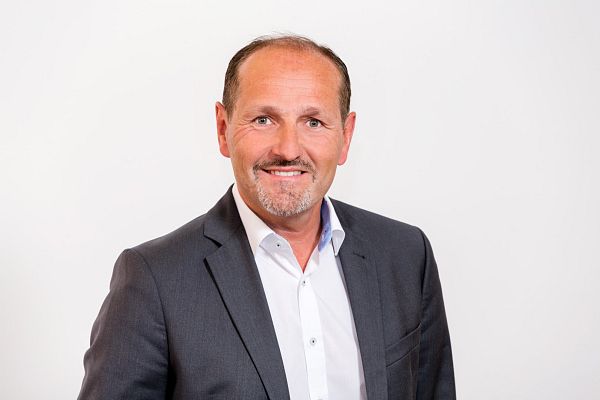 Do you have questions?
Just write to us. We are gladly available
for questions and suggestions.