News
---
Innovation on the drinks shelf: Granny's Streuobst - the first sparkling apple juice from the orchard
To be honest: Granny's, Austria's most popular sparkling apple juice, has always stood for innovation. Now the company is bringing another innovation onto the market: Granny's Streuobst in the 0.5 liter bottle is the first sparkling apple juice that is produced purely from apples from local orchards. The drink was developed together with the ARCHE NOAH association, with which the company has been cooperating for more than a year and donates 5 cents per bottle. In 2018, a donation total of 100,000 EUR was already reached. Under the motto "For the good of nature", the common goal is to make a long-term and sustainable contribution to the preservation of biodiversity.

Quite honestly: Sustainable product development to preserve biodiversity
"Granny's fruit trees are the natural continuation of our brand promise. Quite honestly," says Bernhard Prosser, Managing Director for Sales and Marketing at Egger Getränke, proud. "A 100 percent natural, naturally cloudy direct apple juice, made exclusively from apples from Austrian orchards - splashed with sparkling water," is how he describes the innovation from his company. The aim is not only to quench the continuing unquenched thirst of the Austrians for sparkling apple juice, but also the increasing consumer demand for natural and sustainable products.

Marketing director Martin N. Eicher adds: "As Austria's most popular apple juice, we take responsibility for this segment and also for local fruit growing. Because we at Granny's consistently rely exclusively on local apples and we want to preserve the variety of apple varieties. "

Granny's Streuobst will be available from mid-April in 0.5 liter bottles and 6 x 0.5 liter packs in participating local grocery stores.
 
Orchards & responsibility for diversity: "Like from grandma's garden"
Orchards are not only beautiful, they are also important. Because with this form of traditional fruit growing, various apple trees are scattered all over the place on colorful meadows and offer a home for many plants and animals. Especially in orchards there are often very rare, old apple varieties such as the "Cox Pomona" or the "Early Red Wiesling". There are over 800 varieties in Austria alone. With the launch of the new product Granny`s Streuobst, Granny`s is shifting the focus on this diversity of our domestic apple varieties and thus the continuation of the traditional orchard meadows.

A study carried out by Granny`s makes it clear that there is a need for clarification: Almost a third of Austrians think that terms such as Styrian sheep nose, Waldviertler Böhmer, Upper Austrian Brünnerling or Royal Short Stem are the names of wines. There are old domestic apple varieties. Granny's set itself the task of stopping the worrying development of the number of trees on Austrian orchards. After 60 years of continuous decline in the tree population, there are only 14 percent of the tree's height in the 1950s. The reason for the declining orchard cultivation may also be that this traditional method of production is labor-intensive and therefore more cost-intensive, and farming is often unprofitable.
 
About Granny's
Granny's is the most popular sparkling apple juice among Austrians. The brand comes from the family company Egger Getränke GmbH & Co OG, based in Unterradlberg in Lower Austria, and was launched more than 20 years ago. Since then, the product category has been continuously and actively developed. Only local apples and crystal-clear water from Austria have always been used for the product range, which will soon be available in six varieties. Sparkling apple juice corresponds to the consumers' wishes for natural and sustainable products. Since 2017, Granny's has maintained a future partnership "For the sake of nature" with ARCHE NOAH, whose goal is to ensure long-term and sustainable biodiversity through the use of old types of fruit and, in particular, orchards. Granny's donates 5 cents to ARCHE NOAH for every bottle sold. Granny's production is climate-neutral and draws the energy from the biomass power plant located on site and an external electricity provider who works 100% with renewable energy sources.
 
About  the association ARCHE NOAH e.V
The ARCHE NOAH association has been committed to the preservation of biodiversity in fruit and vegetable cultivation for more than 25 years. It was founded in 1989 on the initiative of gardeners, farmers and journalists who no longer wanted to purchase their seeds exclusively from large agrochemical companies or who were concerned that the many different types of vegetables and fruit would fall victim to industrialized food production.

ARCHE NOAH receives local vegetables, fruits and grains from a collection of 5,500 varieties and is working to bring traditional and rare varieties back into the gardens and onto the market. The association, which operates across Europe, is supported by around 16,000 members.
---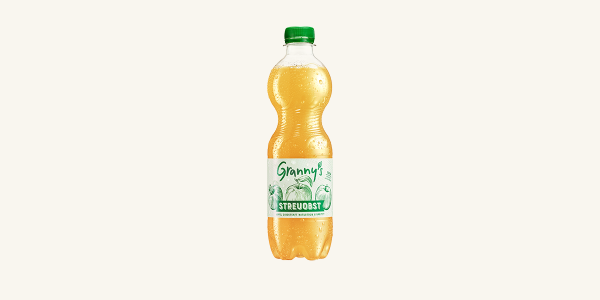 Do you have questions?
Just write to us. We are gladly available
for questions and suggestions.